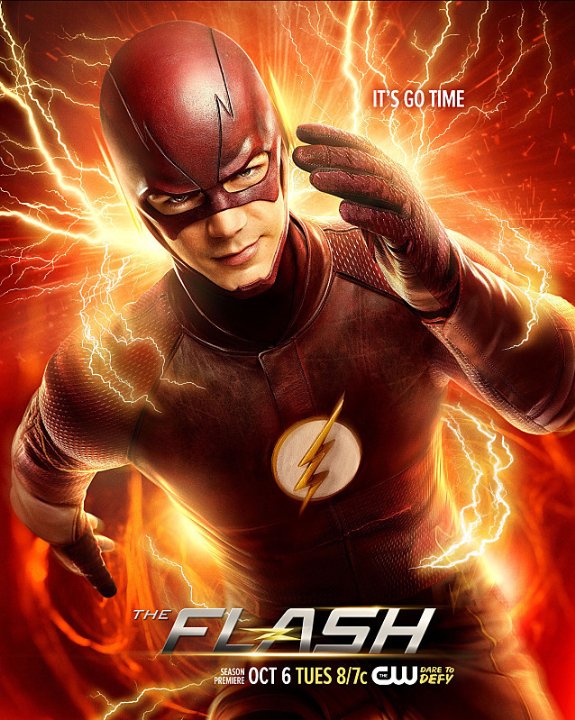 Aired: 2014 – still running
  Network: CW Network [United States]
   Production: DC Entertainment
   Seasons:  2 (still running)
   Episodes: 38
   Duration: 42 minutes
   Genre: Action, Adventure, Crime, Drama, Mystery, Sci-Fi
   IMDb rating: 8.2/10
   My rating: 3.5 Stars (3.5 / 5)
Storyline
"Barry Allen is a Central City police forensic scientist with a reasonably happy life, despite the childhood trauma of a mysterious red and yellow being killing his mother and framing his father. All that changes when a massive particle accelerator accident leads to Barry being struck by lightning in his lab. Coming out of coma nine months later, Barry and his new friends at STAR labs find that he now has the ability to move at superhuman speed. Furthermore, Barry learns that he is but one of many affected by that event, most of whom are using their powers for evil. Determined to make a difference, Barry dedicates his life to fighting such threats, as The Flash." (IMDb)
My opinion
The Flash was introduced in "Arrow" and I was kind of excited but not really you know? I didn't really know what to expect but this is really a great show. Great special effects, lots of action and diologue, nice dramatic love relationships and Cisco. Cisco Ramone is so funny and he comes up with all of the great nicknames for people with powers.
Caitlyn, Cisco and dr. Wells are the superteam behind the Flash and in the first season you really get to know him and the team. Barry is in the beginning very insecure, he doesn't know if he's right to be a hero. Which makes him very easy to relate to. The pace is also very relaxing, it doesn't feel rushed and the character progression isn't that either. It's like a light version of Arrow, which is usually very serious and dark. This show is funny, smart and you can see that fun is a very important aspect of the show.
What really bothers him in the first season is that he finally got power to make a difference and he really wants to do that because when his mom got killed by something indefinable, his father got wrongly convicted for it. So that plays a huge part in his decision making in the show. When his parents weren't there to raise him, Joe West took him in and his daughter Iris and Barry became really good friends. Although Barry likes Iris more than just on a friend level, he's kind of a coward in that way. :p
And I just want to say something about Dr. Harrison Wells. The actor who plays him really does a fantastic job because he plays that father figure for Barry and is also a great character on his own. There are a couple of plot twists in this show, and holy moly you are not going to see them coming. What kind of bugged me and was thrilling at the same time, the first twist comes a bit early on and you know more than the other characters, so sometimes I was just screaming at my screen because I was so frustrated. But in the second season it isn't the same, so if you are not a fan of that, sit through the first season.
Now you are probably wondering, 'Can you watch this one without Arrow?' Yes, you can. But it makes the crossovers much more fun if you watch them both, and they do reference eachother now and then. Sometimes a character pops up from the other show. Because of the popularity of the show they made another one, called Legends of Tomorrow which features smaller characters from Arrow and the Flash. Really fun too!
I do recommend watching Arrow, Flash and Legends of Tomorrow all together because it makes it so much more enjoyable but it isn't necessary. Let me know what you think about the Flash and/or purchase the DVD/comics down below!