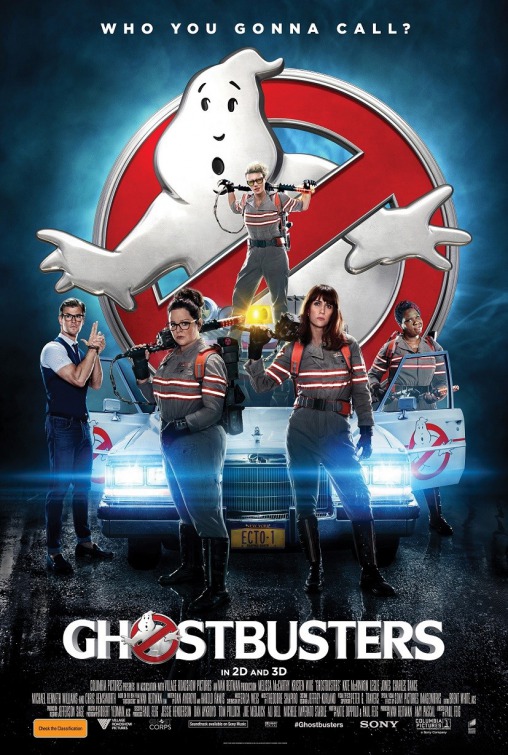 Movie: Ghostbusters
Release Date: July 14, 2016
Language: English
Director: Paul Feig
Based on: Ghostbusters by Ivan Reitman, Dan Aykroyd, Harold Ramis
Stars: Melissa McCarthy, Kate McKinnon, Kriston Wiig, Lesie Jones, Chris Hemsworth, Charles Dance
Rating:  (3,5 / 5)
Who you gonna call?
"Following a ghost invasion of Manhattan, paranormal enthusiasts Erin Gilbert and Abby Yates, nuclear engineer Jillian Holtzmann, and subway worker Patty Tolan band together to stop the otherworldly threat." [IMDb]
Just to be clear, I have not seen the old Ghostbuster films. This was the first time I had seen ANYTHING Ghostbusters related. The ones who have seen the older movies might have a different opinion.
The buzz has been loud around this movie. Ghostbusters has never kept quiet, even if the last film was released back in 1989. It has always been huge at Comic Con events and the fans have been loyal whenever anything Ghostbusters popped up again. Creds to the fandom.
I went in with no expectations, except the ones I had that my friends gave me by telling me they've seen it three times already and that Holtzmann is a character that makes the movie worth watching. After I saw the movie, I went again. For Holtzmann. Let me explain the team in this 2016 reboot.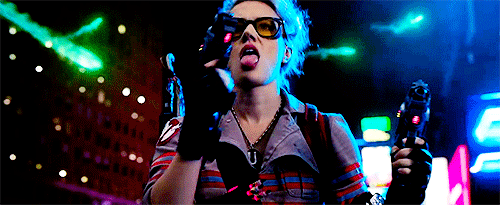 There are four ladies, all with their wonderfully hilarious character traits. Two seem to know everything about ghosts and science, one is good at making tools and the other one just knows New York City. And then there is their assistant, Kevin, portrayed by Chris Hemsworth.
As they start their business, you get to see the hilarious ways in which Holtzmann works, in which Patty sasses the $H!* out of everything, Erin falls in love with Kevin and Abby tries to talk some sense into all of them.
The way the actors make their characters talk, move and work is just what makes this movie great. I couldn't think of better actors to play these characters and I wouldn't have changed a thing in the cast.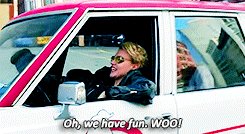 The story is okay. It works well and it is thought-through. It doesn't get boring and the build-up is great. When you think it's over, there's something else. It seems like the perfect formula for movie-success and even when there's not necessarily something interesting happening, it just doesn't get boring, which I think owes a thanks to the characters.
The graphics are quite okay. I liked the 3D when they use their weapons but it could have been done without the effect. The looks of the ghosts are something I think they have done better since the moves released in the 1980's (from what I've seen in pictures), but still could have been done better, since it is 2016 after all.
Over all I enjoyed the movie and it's characters. I even laughed at the cameos of some old cast members and sat through the credits to enjoy Chris Hemsworth's dancing. Yes, please, stay seated even when the movie has ended, it is glorious. I would definitely go again, even though I have already seen it twice. I might even watch the old movies.
In a nutshell:
Liked it: Yep
Loved it: Almost
Re-watch: Yep!
Cinema worthy: Yes, but you don't have to go to the 3D version.