Hi everybody!
This is the second Netflix & Binge, in which I will tell you about my 3 favourite Netflix shows. These are great to watch by yourself or with others, and it is really addictive, so I'm warning you now. :p
First, I should tell something about myself:
Teammember: Frederique
Has been on Netflix for: a year
Hours of Netflix every day: 1 in general
Currently binge-watching: House of Cards (again)
Favorite binge-moments: Mornings in which I've nothing to do, during breakfast or when I just woke up 🙂
Netflix is so chill (haha) because it's like you are watching a movie, after one episode it only takes ten seconds before you move on to the next one. So only take these recommendations seriously if you have a lot of free time, because sometimes it's so hard to stop. Here are my three picks for the second Netflix and Binge!
 House of CardsAired: 2013 – now
Seasons: 4
Episodes: 52
Total time: 2652 minutes ( about 44 hours)
Netflix rating: 5.0/5.0
IMDb rating: 9/10
A Congressman works with his equally deceiving wife to get revenge on the people who betrayed him and mislead others for the gain of power in the White House.
My mother and I had gone through the basic girl shows, Sex and the City and Desperate Housewives, and needed something new. So when season 3 had just been released I suggested this series and we watched 2 episodes almost every night! My mom and I are quite interested in American politics, just because it fascinates us. The actors in this are really good, almost not-normal-good. Kevin Spacey really makes you believe that he (the actor) is this Frank Underwood in his spare time. The way he and his wife Claire lie and take advantage of some people to get power is almost majestic to see. Season 4 just came out and we already have gone through them, I must advise you to remember the big happenings because they will be spoken of again. 🙂
The episodes are quite long, so keep that in mind!
Binge-worthy:
(4.0 / 5)
Addictive:
(4.0 / 5)
Quality: 
(5.0 / 5)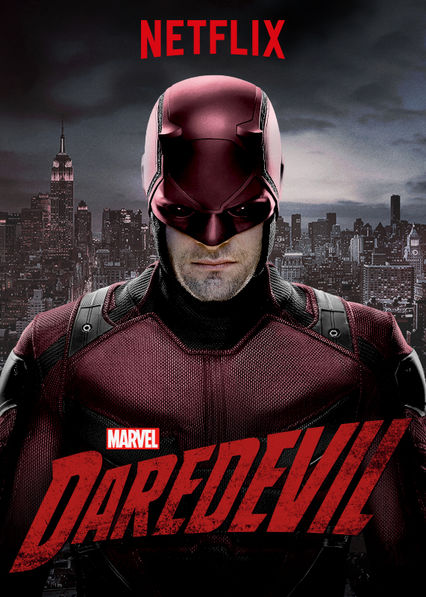 2. Daredevil 
Aired: 2015 – now
Seasons: 2
Episodes: 26
Total time: 1560 minutes ( about 26hours)
Netflix rating: 5.0/5.0
IMDb rating: 8.8/10
A blind lawyer, with his other senses superhumanly enhanced, fights crime as a crimson vigilante.
So, you might have noticed that Daredevil is quite popular on our site. That's because Rebecca and me are huge fans of it! (Rebecca can't stop raving about the second season) It's a great show, you follow Matt Murdock in his complicated life which has been divided in daylight-lawyer and nightime-superhero. I must admit that I haven't watched the second season yet but I will as soon I'll find the time. If you love Marvel films you sure will love this one, and because season two has just been released you can watch even more (2 seasons isn't that much but if you think of it like a 26 hour movie it is much). The show has a edgy, dark feeling to it, and a lot of fighting so if you're not in to that then maybe you should watch something else. 😛
Binge-worthy:
(3.5 / 5)
Addictive:
(5.0 / 5)
Quality:
(4.5 / 5)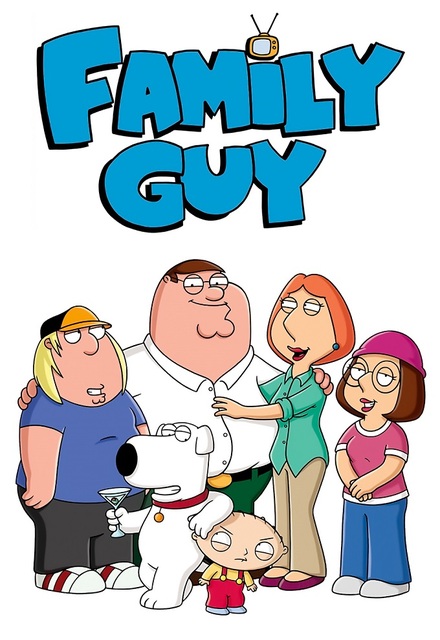 3. Family Guy
Aired: 1999 – still on TV
Seasons: 14 (Netflix only has 4)
Episodes: 273
Total time: 6279 minutes ( about 104 hours)
Netflix rating: 3.9/5.0
IMDb rating: 8.3/10
In a quirky Rhode Island town, a dysfunctional family strive to cope with everyday life as they are thrown from one crazy scenario to another.
All right, I know what you're thinking. What kind of juvenile adult would like to binge-watch this? Well, me. :p The reason why is my boyfriend, actually. Last summer we spent a week at my house with no one around and we would watch this all night. It is funny and our kind of humour. The characters are so fun, my favourite is Stewie. His crazy mind and the paradox of sounding like a 50 year old man and being a baby is just genius. The scenes can be a little over the top, with very wrong humour too but it's not that disturbing that I wouldn't watch it at all. It's a great comedy to watch with your friends, like Friends (haha) and How I met Your Mother. Too bad Netflix only has 4 season though, so if you really want to go crazy binge-watching this you could buy the DVD's or tape them because this is still being aired on Comedy Central.
Binge-worthy:
(3.5 / 5) (only because Netflix has 4 seasons and there are ten more)
Addictive:
(4.0 / 5)
Quality:
(4.5 / 5) ( from a comedy perspective)
I hope you enjoyed this post and if you have strong feelings, positive or negative, about these shows please let me know down below! Next month another member will introduce you to their favourite Netflix shows!