Movie: How To Be Single
   Release Date: February 12th, 2016
   Language: English
   Director: Christian Ditter
   Based on: "How To Be Single" by Liz Tuccillo
   Stars: Dakota Johnson, Rebel Wilson, Alison Brie and Leslie Mann
   Rating:
(4.0 / 5)
A delightful rom-com about being single in a big city, How to Be Single is a hilarious movie that ends up tugging at your heartstrings. I'm a sucker for Rebel Wilson and romantic comedies so this just sounds perfect to me.
"There's a right way to be single, a wrong way to be single, and then…there's Alice. And Robin. Lucy. Meg. Tom. David. New York City is full of lonely hearts seeking the right match, be it a love connection, a hook-up, or something in the middle. And somewhere between the teasing texts and one-night stands, what these unmarrieds all have in common is the need to learn how to be single in a world filled with ever-evolving definitions of love. Sleeping around in the city that never sleeps was never so much fun." (IMDB)
Introducing Alice (Dakota Johnson), our main character who "temporarily" dumps her boyfriend Josh to find out what life is like living on her own. She finds out very quickly it isn't all that easy. For instance, how on earth do you reset your router?! The story starts moving once Alice meets her wild co-worker Robin (Rebel Wilson), who enjoys one night stands and drinking – a lot of drinking.
Robin introduces Alice to Tom, a bartender who turns out to be desperately in love with the girl living above his bar; Lucy (Alison Brie). Bummer! Meanwhile, Alice's sister (Leslie Mann) decides to take matters into her own hands and realizes she doesn't exactly need a guy to get pregnant. She opts for artificial insemination, and just as soon as she's pregnant, she finds her Mister Right. Oops?
I don't want to give away too much of the story, because most of Single's charm is the surprise and the humour. Despite all the fun, the movie can be predictable and me telling you would just ruin it.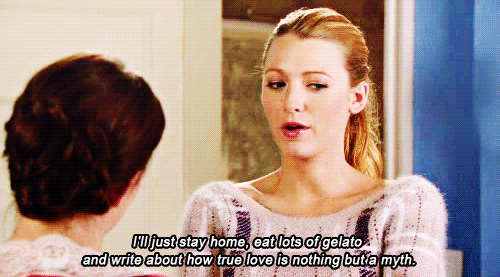 Sure, it's not the most original romantic comedy (are there any truly originial romcoms?) but the story is hilarious and fresh. If you don't like romantic comedies, don't go see it. It's a movie that caters to its audience, including emotional songs and sappy voice overs.
At times [I], Single feels like a more grown up Sex and The City. These ladies are figuring life out, on their own.
Someone who definitely deserves to be highlighted is Rebel Wilson. I love basically everything she's done, and I'm lowkey convinced she never really acts.. she's just herself. Every line she delivers is spot on and you can't help but admire her. It's a shame she doesn't get a lot of screentime in this movie, but she truly shines whenever she is on.
We all know Dakota Johnson from 50 Shades of Grey, but Single proves her worth as an actress. Specifically as a comedic actress, she's the perfect person to play the naïve Alice and seeing the growth the makes in the movie just fills you with happiness. The entire movie does, actually. It's not perfect, it's flawed but it's happy, funny and ends on a high note. Perfect for those nights where you just want to relax and watch a romantic comedy. I sure will be watching it many, many times.
In a nutshell:
Liked it: Yes
Loved it: Yes
Re-watch: Yes
Cinema worthy: Yes, if you love romantic comedies