Vanaf 2 februari draait de film A Monster Calls in de bioscoop, wij mogen 2x 2 kaarten weggeven van Independent Films! Hoe tof is dat? Lees snel verder om erachter te komen hoe je kans maakt op de kaarten.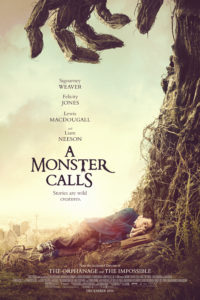 Samenvatting:
"Omdat zijn moeder ernstig ziek is moet hij bij zijn kille oma wonen. Op school wordt hij gepest en zijn vader woont duizenden kilometers bij hem vandaan. Onverwacht roept Conor de meest onwaarschijnlijke bondgenoot op: een kolossaal monster dat hem 's nachts bezoekt om verhalen te vertellen. 
Onder de wilde begeleiding van het monster begint Conor aan een reis langs moed, hoop en waarheid om zijn ultieme nachtmerrie onder ogen te komen en de realiteit te accepteren."

Omdat het bijna Valentijnsdag is, doe je mee aan de winactie door iemand te taggen met wie jij wel naar deze film zou willen gaan. Vergeet ook niet dit bericht en onze pagina te liken om kans te maken op de kaarten! De winnaars worden woensdag 8 februari hier bekend gemaakt. May the odds be ever in your favor!