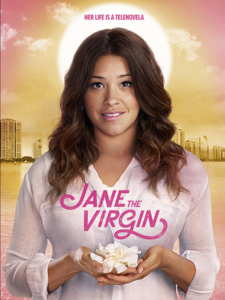 Aired: 2014 – still running
Network: The CW [United States]
Production: Poppy Productions
Seasons: 3
Episodes: 55
Duration: 42 minutes
Genre: Comedy
IMDb rating: 7,8/10
My rating:
(4,0 / 5)
On Netflix: Yes
Storyline
"Jane is a religious young Latina who is a waitress in a hotel in Miami. Her life takes a big turn for the unexpected when her doctor (Dr. Luisa Alver) mistakenly artificially inseminates her during her checkup. Jane's mother Xiomara, who became pregnant with Jane at a very young age, is scared that Jane will be destroying her life by deciding to bring the baby to full term, while Jane's traditional religious Latina grandmother, Alba, encourages Jane to do what she chooses. The biological father is a married man named Rafeal Solano, who is a cancer survivor and a former playboy. He is the new owner of the hotel where Jane works, and was her former teenage crush. Petra, Rafael's amoral and scheming wife, learns of the mistake and plots her own agenda. Petra is also involved in an affair with Roman Zazo, Rafael's best friend, who is under investigation by Jane's police detective boyfriend, Michael, and who also deals with Jane's unexpected condition in his own way. Meanwhile, the doctor who inseminated Jane, Dr. Luisa Alver, who is Rafael's younger sister, is distraught over learning that her wife cheated on her and left her. Elsewhere, Rogelio de la Vega, a famous TV star and, unbeknownst to her, Jane's biological father, shows up to wanting to make contact with Xiomara, unaware of Jane's existence." [IMDB]
My opinion
You might've thought, after reading the storyline: "this sounds vaguely similar to a bad Spanish telenovela…" Well, you were right! Don't stop reading now, though, because this little fact makes this TV show special. The storyline, in short, is about a girl called Jane (Gina Rodigues) who is accidentally artificially inseminated with Rafael's sperm (Justin Baldoni). Yes, I get that it sounds really cheesy and surreal and honestly, it is, but it's simply one of thóse series: a plot that'll never work in the real world, a lot of drama, and loads of romance. To give the show even more similarity with a Spanish soap, it starts off every new episode with a voice-over (that, by the way, talks during the episode as well to give a certain dramatic touch to the events happening) that says something like 'Ah, welcome back, before we continue, let's review what happened earlier.'
The whole show is presented like a story that's told by this narrator, who pops up every once in a while to enlighten the story and give some comments on what is happening. And honestly, a lót happens, including cheating spouses, people getting murdered, a faceless
criminal, an unexpected lesbian affair… Get the picture? It all happens within really short period of time to a bunch of people that before the insemination had no personal connection to each other whatsoever, which makes the story even more chaotic. As a viewer, you sometimes forget a little what's happening at the same time, but because it's such a simplistic plot with a very basic theme, which is the main love-story of Jane, the relatively young girl, that tries to find out whether she still loves her current boyfriend, Michael (Brett Dier), or that she's slowly developing feelings for Rafael, who will be the father of the child she's carrying.
If you prefer shows that have a deeper layer, a clear storyline and a goal that the writers are working towards, then this show won't be the right fit for you. It's messy, all over the place and the plots seems to be changing all the time. But if you love cheesy romance stories, unlikely events that can only happen in fictional worlds, and just a 'feel-good' moment, then I highly recommend Jane the Virgin. It's just really 'light', fun to watch, a lot of comedy with bad jokes (which is my type of humor, not even sorry), and just enough of a storyline to keep on watching because you want to know how it continues. Sometimes, that's just what you want in a series and this one succeeds on every level of it.
Sure, sometimes they overdo it a bit to the point where you think 'Okay I get it, this can't happen, tone it down a notch,' which is why I gave it 'only' 4 out of 5 stars, but I'd still watch it on a rainy day when I want to look at a sunny hotel in Miami and look at other people dealing with their problems… or any other day of the week, for that matter.