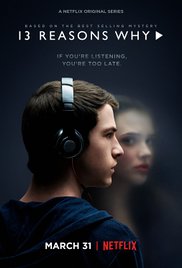 Aired: 2017 – still running
Network: Netflix [United States]
Production: Anonymous Content, Paramount Pictures
Seasons: 1
Episodes: 13
Duration: 60 minutes
Genre: Drama, Mystery
IMDb rating: 9,0/10
On Netflix: Yes
My rating:
 (5 / 5)
Storyline
Thirteen Reasons Why, based on the best-selling books by Jay Asher, follows teenager Clay Jensen (Dylan Minnette) as he returns home from school to find a mysterious box with his name on it lying on his porch. Inside he discovers a group of cassette tapes recorded by Hannah Baker (Katherine Langford) -his classmate and crush-who tragically committed suicide two weeks earlier. On tape, Hannah unfolds an emotional audio diary, detailing the thirteen reasons why she decided to end her life. Through Hannah and Clay's dual narratives, Thirteen Reasons Why weaves an intricate and heartrending
story of confusion and desperation that will deeply affect viewers [IMDB].
My opinion
It has been a few weeks since this show aired on Netflix, but it's still buzzing around on the internet. It was long awaited and once it was finally here, it exceeded a lot of expectations, including mine. It took me one weekend to finish every episode and after I was done, I just had to sit and think about it for a minute (which is a sign of a good TV show, in my opinion). It made me cry, scared and anxious, and the story of Hannah Baker simply dragged me along through the entire series, until the end I didn't want. You know she'll die, but somehow you keep hoping everything will be okay in the end. But even though it's not, 13 reasons why is still a show that I highly recommend to everyone.
 The show starts of with the beginning of the aftermath of Hannah's suicide. A high school with children and teachers that are still in shock and are simply trying to process what happened, including Clay, a quiet kid that vaguely reminded me of Charlie from perks of being a wallflower; kind, but a little anxious and socially awkward. The guy who doesn't seem to do any harm, but somehow, he ended up on the tapes. 13 of them and one tells his story from Hannah's perspective. You'll come to care for him, wonder how someone like Clay is partly responsible for the death of a girl, which is what makes you continue watching (that, and the fact that you want to know all of the names yourself). From awkward Clay to Hannah to the 'others' that listened to the tapes… everything is put together in a way that just makes you want to continue watching it, even though it might make you emotional or
angry or whatever response your body gives to the images shown. Besides all of this, I do have to give a disclaimer before you start watching: everything in the show is really, really graphic. They didn't spare any viewer by displaying things less horrible than they were. However, I
do feel like this little aspect of the show, their refusal of nuancing the content, makes it so great (and important). If you still want to watch it, but are a little sensitive to such content, there are lists going around which will tell you what will happen when, such as this one (click here).
All and all I feel like 13 reasons why is one of those shows you háve to see. It is a display of how seemingly meaningless actions can affect a person and how certain things pile up until someone feels like there is no other way out. It might be intense and it might be hard to watch from time to time, but it's worth it. It's an amazing show with unreal acting skills. How those actors manage to get so deep into their characters and display the emotions Clay, Hannah, Alex and all the others feel so clearly… it's just amazing, I don't have a better way to describe it. Go watch it. Go… adjust, whatever device you're watching it on. Cause it is Hannah Baker, live and in stereo, and there will be no encore or requests.
Click here if you want to read a related article about 13 reasons why that Nanouk wrote earlier this month.