You Have a Match has been all over bookstagram for the last couple of months, most probably because Reese Witherspoon chose it to be the YA Pick of Winter '21 (meaning the first book of 2021). But maybe also because of it's super cute cover. I'm really torn up about how to rate this book, because I totally loved it, but I didn't give me all the feels.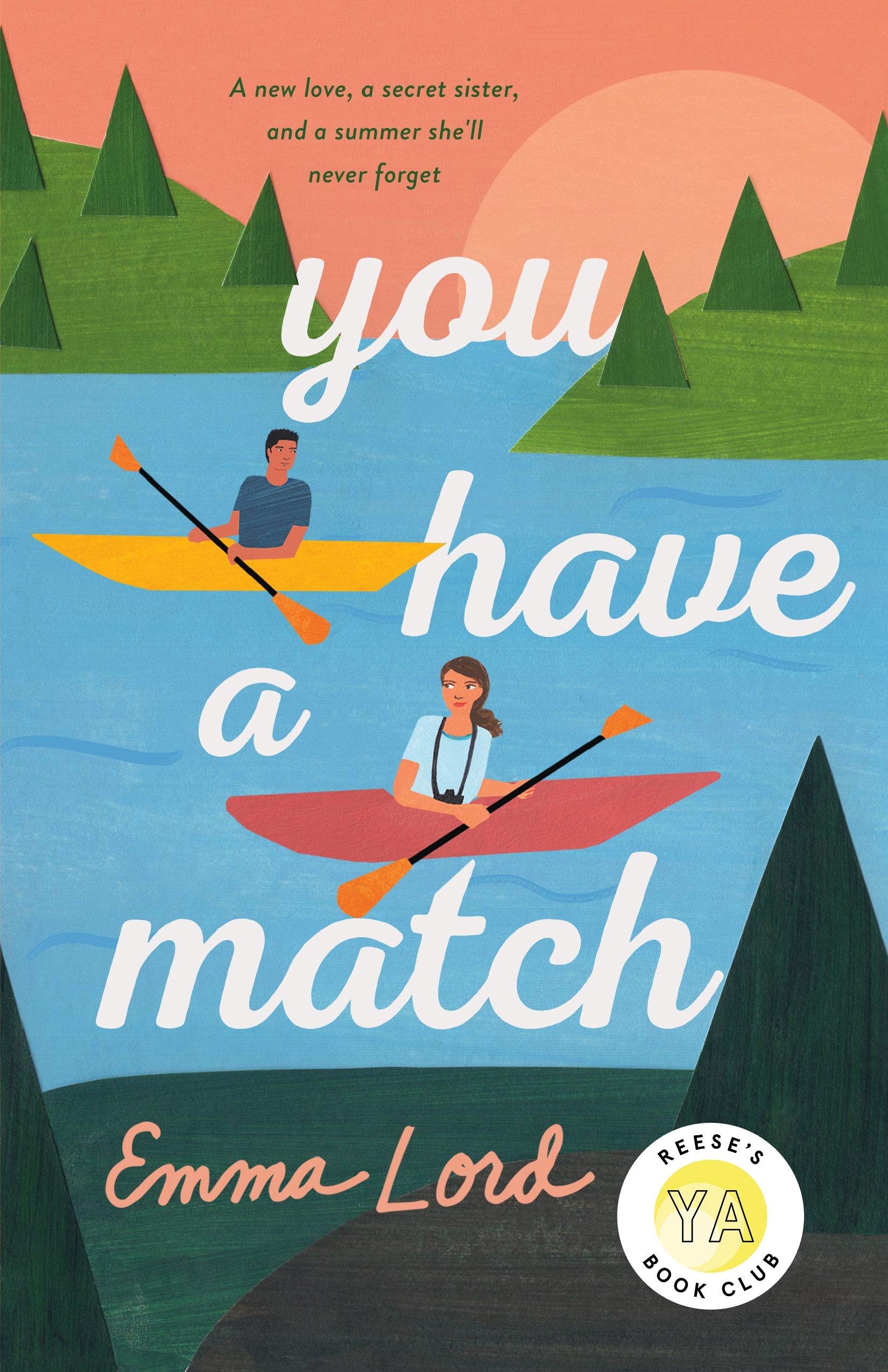 Author: Emma Lord
Genre: Contemporary
Publisher: Wednesday Books
Release Date: January 12th 2021
Pages: 320
Spoilers: Nope, no spoilers! 
Rating: 
 (4 / 5)
---
When Abby signs up for a DNA service, it's mainly to give her friend and secret love interest, Leo, a nudge. After all, she knows who she is already: Avid photographer. Injury-prone tree climber. Best friend to Leo and Connie … although ever since the B.E.I. (Big Embarrassing Incident) with Leo, things have been awkward on that front.
But she didn't know she's a younger sister.
When the DNA service reveals Abby has a secret sister, shimmery-haired Instagram star Savannah Tully, it's hard to believe they're from the same planet, never mind the same parents—especially considering Savannah, queen of green smoothies, is only a year and a half older than Abby herself.
The logical course of action? Meet up at summer camp (obviously) and figure out why Abby's parents gave Savvy up for adoption. But there are complications: Savvy is a rigid rule-follower and total narc. Leo is the camp's co-chef, putting Abby's growing feelings for him on blast. And her parents have a secret that threatens to unravel everything
But part of life is showing up, leaning in, and learning to fit all your awkward pieces together. Because sometimes, the hardest things can also be the best ones. [Goodreads]
---
Realistic characters
Let me start off this review with introducing the characters: Abby, her secret bigger sister Savvy, Leo, Connie and Mickey. And of course there's Finn, he was probably my favorite of the bunch. But lets dive into these characters. First of all, Abby, the main character. Abby is sixteen years old and it's been a year since her grandpa Poppy died. She and Poppy shared a passion for photography. It was very unusual for Abby to show her pictures to anybody but him. After his death, her grades drop and her super busy parents sign her up for almost every tutoring program in the world. Although Abby feels like she can't breath, she goes along with it, as she feels she's failing her parents. When she, Leo and Connie take a DNA test for a project, Abby finds out she has an older sister. And not just anybody, but super healthy wellness influencer Savvy.
Savvy couldn't be more unlike Abby, and I really liked that dynamic. Abby was the most realistic character of the two. She doesn't like to fight with her parents, she loves to spent time with her friends and she's super awkward as she and Leo almost kiss the year before. Savvy, on the other hand, seems to be the perfect (adopted) daughter, looking fabulous all the time and giving away some of her social media earnings to charity. Hence the inferiority complex Abby starts to experience even though she's only just met Savvy.
The sister bond
Ultimately, Abby finds her voice and learns that she needs to communicate with her parents in order to let them know how she feels and sees things. On the other hand, Savvy's perfect persona unravels and she tends to let go of the control she so desperately tried to have at the beginning of the novel. I was totally there for their dynamic, and I think their growing bond and the feelings Abby starts to develop towards her newfound sister Savvy feels totally real. You want to strangle them but still love them – I know the feeling, I have three younger sisters.
Storyline
I think I would like to split the storyline up into two parts: one of that of Abby and Savvy and finding out the big secret, and one of that of Abby and Leo turning around each other and their feelings towards each other.
Abby and Savvy
So the first storyline tells that of Abby and Savvy finding out that they are sisters. They immediately realize that this is something they cannot just confront their parents with, as this is a to big of a secret to just casual talk about over a cup of tea. The two girls decide to go to the same summer camp and work things out and get to know each other before finding a way to confront their parents. In the end, that happens. I'm torn between liking the explanation and now quite believing it. I cannot give away too much because I don't want to spoil the ending – but this had me worked up for a while.
Abby, Leo (and Connie)
Abby, Leo and Connie have been friends forever. And they really want it to stay that way, even though sometimes change is inevitable. Especially now that Abby has feelings for Leo, but Leo doesn't seem to have feelings for her (according to Connie). But turns out, things are messed up, turned around and changed so much that they both really don't know how to feel or act towards each other. I was really rooting for Leo en Abby, even though I also would have really liked to see the relationship between Finn and Abby develop.
Feels, but not ALL the feels
Like I said in the beginning of my review, I was struggling with how to rate this book. And that is mostly because I like to give a little bit of extra stars when the book gives me all the feels. For instance, I real Kisses and Croissants and Love and Gelato not too long ago. Although I think You Have a Match has a better writing style and is much more realistic, it didn't quite give me the feels those other two books gave me. I rooted for Leo and Abby, and also really loved the bond between Abby and Savvy, but it just didn't have me all the feels.
Conclusion
You Have a Match is a cute contemporary YA novel focused on family. It has realistic characters and a believable storyline. Set in a summer camp, this is probably the perfect summer read for 2021. It features LGBTQ+ love interests and is super diverse. The book gave me some feels, but not all the feels, hence my four star rating. If you're looking for a summer read not too much focused on romance, this is the on for you!
Curious about the book? You can order it at your local bookstore or here: