Thank you Edelweiss+ and Soho Teen for providing me with an eArc of this book. The fact that I was gifted this book does not influence my opinion. Enjoy my review of Wider Than the Sky!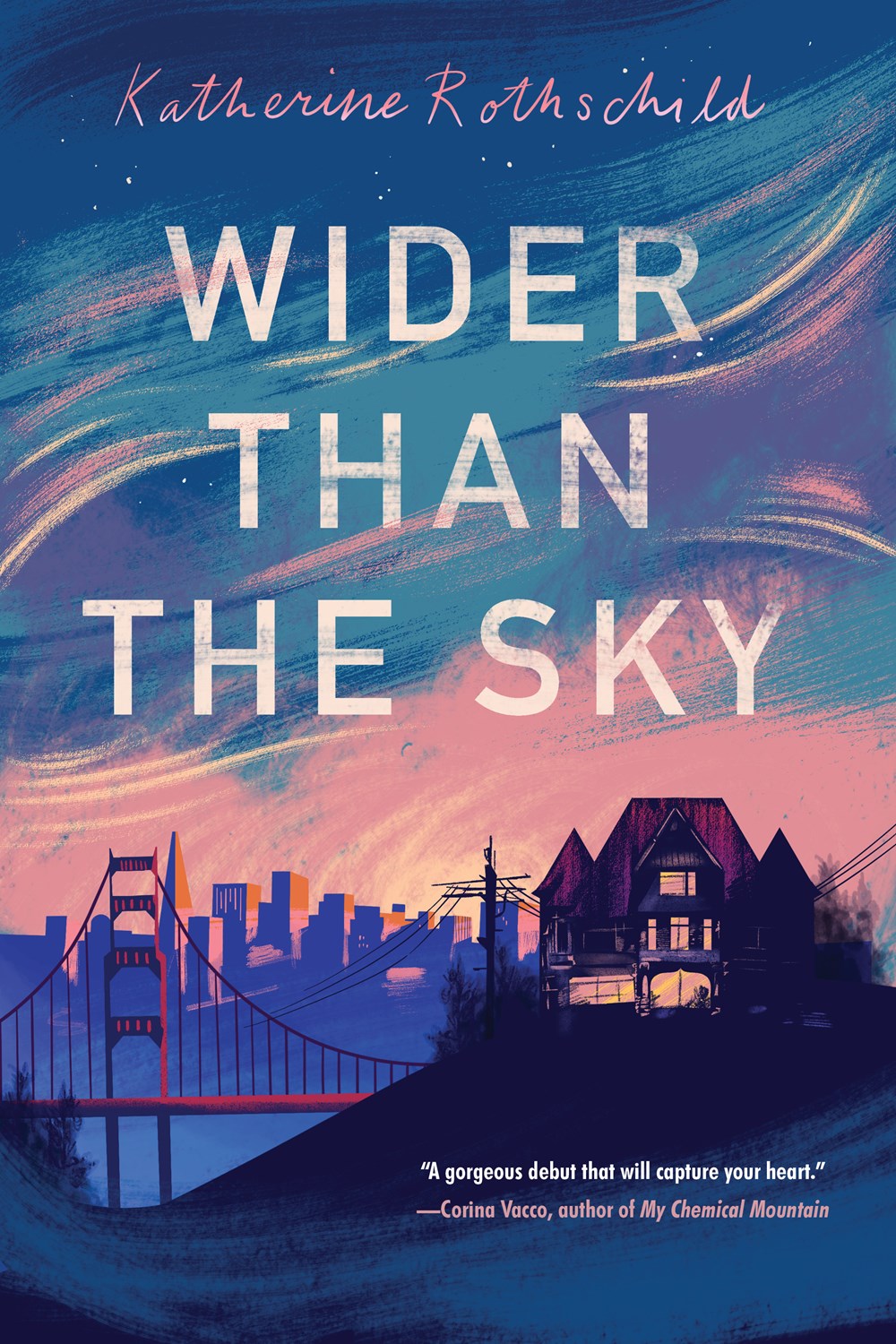 Author: Katherine Field Rothschild
Genre: Contemporary
Publisher: Soho Teen
Release Date: January 19th, 2021
Pages: 288
Spoilers: Nope, no spoilers!
Rating:

(3.5 / 5)
"Sixteen-year-old Sabine Braxton doesn't have much in common with her identical twin, Blythe. When their father dies from an unexpected illness, each copes with the loss in her own way—Sabine by "poeting" (an uncontrollable quirk of bursting into poetry at inappropriate moments) and Blythe by obsessing over getting into MIT, their father's alma mater. Neither can offer each other much support . . . at least not until their emotionally detached mother moves them into a ramshackle Bay Area mansion owned by a stranger named Charlie.
Soon, the sisters unite in a mission to figure out who Charlie is and why he seems to know everything about them. They quickly make a life-changing discovery: their father died of an HIV- related infection, Charlie was his lover, and their mother knows the whole story. The revelation unravels Sabine's world, while practical Blythe seems to take everything in stride. Once again at odds with her sister, Sabine chooses to learn all she can about the father she never knew. Ultimately, she must decide if she can embrace his last wish for their family legacy—along with forgiveness." [Goodreads]
Cover
First of all, I want to say that who ever designed the cover: wow. I love the colors and how the house that is basically the most important part of the story is so centered yet so subtle on the cover. I also really like the fact that it is painted. It has an artsy feel to it. The cover fits in perfectly with the story: the light pink symbolizes the fun the twins have and the love and friendship they experience, and the darker blue shades represent the death of their father and all the secrets he kept from them. Thumbs up to who ever designed this!
Poeting
Secondly, I would like to say that the author really has a good writing style going on in this book. Sabine does this thing, poeting, which basically means that whenever she experiences heavy emotions (happy or sad) she will just start mumbling a poet. And of course, this happens at the most inconvenient moments. For instance, when she's with her crush. It is something I've never read before and I can really appreciate this originality.
Representation of HIV/Aids
What stands out the most about Wider Than the Sky is that it touches the subject of HIV/aids. I don't think I ever read a YA book that discusses this subject. I think that this is very important as this is still a subject that is not talked about often enough in (YA) lit. However, I do feel like the author just touched it very briefly and could have expanded it a lot more.
Polyamorous and bisexual relationships
Wider Than the Sky doesn't shy away from anything. Besides talking about HIV, this book also touched upon polyamorous and bisexual relationships. Although I am probably not the right person to judge (as I've never been in a bisexual nor a polyamorous relationship), I do feel like this book gives it negative vibes. I cannot say to much about it without spoiling an important storyline, but I am positive that the mom shouldn't have put up with their situation. I think that Sabine is super selfish about this issue and didn't accept the fact that her father was bisexual. In the end, the author does try to make you believe otherwise, but not convincingly.
Siblings
From the blurb, I really thought this book would be about two sisters, trying to figure out who their dad was and how he died. However, most of the story just follows Sabine trying to navigate life. That's not a bad thing (although there's the annoying insta-love cliché). But maybe I would've liked to read more about their relationship and see how that develops.
Overall, Wider Than the Sky was very entertaining read. It touches the subject of HIV/aids which is very important for representational matters, but in my opinion it was too briefly. I think Sabine was a believable teenager – as were most of the other characters. I would recommend this book and I am looking forward to more books by Katherine Field Rothschild.
Click here for more book reviews.
If my review has gotten you interested in this book, you can order it at your local bookstore or here: