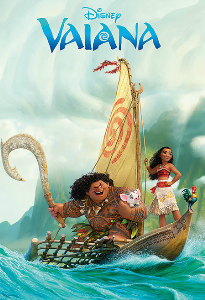 Movie: Vaiana
Release date: October 30, 2016
Language: English
Directors: Ron Clements and John Musker
Stars: Auli'i Cravalho, Dwanye Johnson, Rachel House
Spoilers: None
IMDB rating: 8.2
Rating: 

(5 / 5)
In Ancient Polynesia, when a terrible curse incurred by Maui reaches an impetuous Chieftain's daughter's island, she answers the Ocean's call to seek out the demigod to set things right. [IMDB]
More than one review has started of with me saying this phrase but damn, Disney has done it again. Vaiana -released as Moana in other parts of the world- has the potential to be Disney's biggest hit. Box office wise it's already smashing all kind of records, trailing just behind 2013's mega hit Frozen.
So, why is this movie so good? It's the perfect mix between music, story and characters. I'm gonna keep this as spoiler-free as possible because you gotta experience this movie for yourself. The movie revolves around our main character Vaiana, who is a reminder to keep going no matter how many obstacles life throws in your way. There's Maui, played by the incredible Dwayne Johnson. His performance is light, funny and touching. Also, The Rock can sing! Who knew? Cravalho is truly the discovered gem of this movie, though. She was only 15 years old when the movie was in production, but she's talented beyond her years. I got a feeling we'll be seeing a lot more of her in the future.
Another thing that make the movie a smash hit is the music. Written and composed by Lin-Manuel Miranda (known from Hamilton, for the theater geeks amongst us!), the songs are catchy, funny and have a seriously dangerous 'let's put this on repeat' level. Being a big fan of Lin-Manuel Miranda, I had huge huge huge huge expectations of his music for the movie and I wasn't disappointed. Maui's theme song "You're Welcome" for example, is hilarious and catchy.
None of the songs have the hit appeal of Frozen's "Let It Go", but that's not necessarily a bad thing. Where Frozen felt heavy, melodramatic and shocking at times, Vaiana feels lighter and more optimistic. Every Disney movie has a song in which the main character expresses a desire (think Part Of Your World) and Vaiana is no different. Her song "How Far I'll Go"  is a true highlight of the movie. Vaiana is truly badass! She also has the usual adorable animal sidekicks, which you'll end up loving. I may or may not have looked into adopting a pet pig after seeing it.
This story is not entirely a new story for Disney. Most of their movies have our main character dealing with a 'end of the world' issue which they'll eventually overcome. It'll get a lot of praise for being a Disney movie without a love interest for the main character, for having a lead who doesn't look paper thin and unrealistic. The movie relies heavily on the music to carry it, but that's okay. The story and the music go together perfectly.
That being said, the message of pure optimism and fighting the good fight -no matter how hard- is a message the world needs to hear every now and then. Vaiana is a fun, loving and feel good ride. Run and go see it! 
In a nutshell:
Liked: Yes!
Loved it: YES
Re-watch: If you loved it as much as I did, yes!
Cinema worthy: Yes!