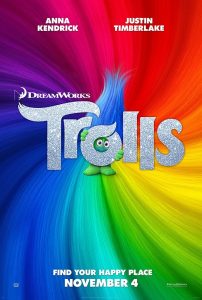 Movie: Trolls
Release Date: October 12, 2016
Language: English
Director: Mike Mitchell, Walt Dohrn
Stars: Anna Kendrick, Justin Timberlake, Zooey Deschanel, Russell Brand, Christopher Mintz-Plasse
Honestly, I cringed every time I saw the trailer. I don't know why, maybe I didn't like the Troll Dolls when I was little. Maybe I wasn't feeling an animated musical, maybe I wasn't feeling the cast. Which is not true, sorry. It has an amazing cast and the voices all suited so well, but let's not get into that already.
 "20 years after the Trolls escaped from the Bergens, who eat Trolls as they believe it will make them happy, Poppy throws a party that attracts the attention of banished Bergen Chef, who captures Biggie, DJ Suki, Satin and Chenille, Cooper, Guy Diamond and Creek. Feeling responsible, Poppy enlists Branch to go along with her on a quest to save Troll Town's population from the Bergens. Their Prince, Gristle, plans to serve the trolls to his kingdom, oblivious to the romantic infatuation of his scullery maid Bridget." [Wiki]
Yeah, yeah. This summary does give away quite a bit, but even after reading that, there's so much more to this movie than just the plot.
One thing I really love is a well-animated movie. As a huge fan of Dreamwork's "How to Train Your Dragon", I do tend to look at animation with a lot of criticism. When I sat down and they opened the movie with a song, I was expecting it to kind of be half-great because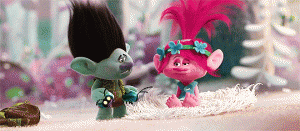 they probably put a lot of effort in the voice acting, singing, story and all that but then the movie started and every character was moving and their surroundings were alive, I already loved it.
The looks of the characters matched so well to the personalities of the characters and voices of the actors, I couldn't help but laugh at quite a few tones or words they were using. The way the voices were just so accurate was almost scary. Even though most people know what the voice actors look like, it won't be hard to picture them as these characters.
The song selection cracked me up many times. Just thinking back, I can't help but laugh at the songs the Bergens sang or the way the Trolls changed some of the words. In the end, a certain song is used to celebrate and I do wish they had written their own 'celebration-song', if you know what I mean. It did fit the story and all that, but I just would have loved to hear something new.
The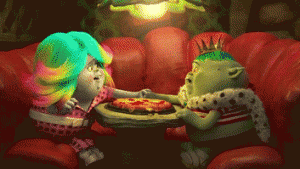 n there's the story. It's so cute. At first I cringed a little at Poppy's enthusiasm and Branch' depressing view of everything, but as the movie progresses, so do their characters. It was a lovely thing to see and the way they do it is a good one. It just sort of happens, not like it all suddenly switches. The mission they go on slowly changes their point of view and they start to understand how they both think, without it being too sudden, which I appreciate.
Overall I would see this movie again after a while, but not right now. It's a bit intense and bright and much, but it's worth seeing an Dreamworks and the actors have done a wonderful job at making a fun movie.
In a nutshell:
Liked it: Yep
Loved it: I could learn to love it
Re-watch: Sure
Cinema worthy: If you're a fan of singing!