For those who know me, will probably get why I suddenly decided to read this book: I am a firm believer in 'read first, watch later'. As Tiny Pretty Things has been on my TBR for ages, and the Netflix series' release date was coming closer, I decided that this book was going to be my first read of 2021. The book was different from what I expected. Here's my review of Tiny Pretty Things: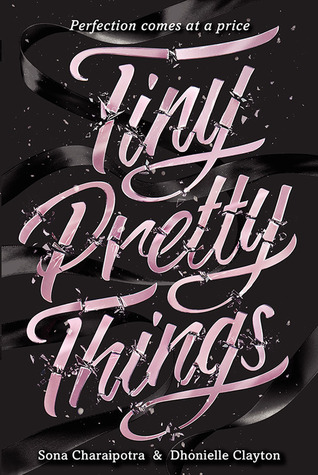 Author: Sona Charaipotra and Dhonielle Clayton
Genre: Contemporary
Publisher: HarperTeen
Release Date: May 25th, 2015
Pages: 448
Spoilers: Nope, no spoilers!
Rating:
(4.0 / 5)
"Gigi, Bette, and June, three top students at an exclusive Manhattan ballet school, have seen their fair share of drama. Free-spirited new girl Gigi just wants to dance—but the very act might kill her. Privileged New Yorker Bette's desire to escape the shadow of her ballet-star sister brings out a dangerous edge in her. And perfectionist June needs to land a lead role this year or her controlling mother will put an end to her dancing dreams forever. When every dancer is both friend and foe, the girls will sacrifice, manipulate, and backstab to be the best of the best." [Goodreads]
When I was about 6 years old, I wanted to become a ballerina. My wall was decorated with the five basic positions, I had a big mirror and a barre attached to that same wal. In gym class, I wore a pink ballet outfit. Turns out, I was way to tall (I'm 5'11/182 cm) and not close to being even slightly flexible. And now that I'm older, I thought ballet didn't interest me enough to read a YA novel about it. Boy, was I wrong.
Characters
From the first page of Tiny Pretty Things, I was addicted. It is written like a soap, ending nearly every chapter in a tiny little cliffhanger. Instead of starting off the next chapter with an explanation, the authors switch between three characters. Bette (the blond 'perfect' legacy ballet bitch), June (the half Korean girl who's always second place) and the new comer Gigi who's the only black girl there. Every character has their own voice and soon I started to like each story as much as the other. By telling the story from the different perspectives, it is impossible to flat out hate one of the girls. They all have a backstory. They all have their reasons.
Mean ballet girls
Although this book is heavy with ballet references, you will probably still like it if you don't like ballet. This book is about friendship, getting things in life but also learning what you are willing to do to reach the goal you (of somebody else) set. I was really amazed by how mean these girls are to each other, yet it was never unbelievable. Every time one of the characters did something mean, I told myself: I understand it, obviously he/she feels bad and this is a logical thing to do. Right? Right?!
The pressure to be perfect
What I like the most about this book, is how striving to be perfect can kill young girls and boys. Heck, even grown ups can struggle with trying to be perfect (I always forget that I am, in fact, a grown up). Tiny Pretty Things doesn't shy away from any of this, and gives a raw display of what, for instance, anorexia can do to a person (or more specifically a ballet dancer). So thumbs up.
Clichés
Of course, being a YA novel, the book was full of clichés. I made notes during my read, and I dotted down the following:
"I want something different. Like you."
This gave me real 'special snowflake' vibes if you know what I mean. The boy says this to the girl after only a few seconds. And yes – I think he meant it and all. But it gave me shudders. In the end, how different was the girl?
Too much mystery?
On another critical note, I was annoyed by how the authors constantly withheld information from the reader. In some sense, this is logical, as this is a mysterious contemporary YA novel. However, you can go too far. Especially if you don't resolve them all at the end. It didn't give me a satisfying feeling when I finished the book. But maybe I just have to pick op Shiney Broken Pieces. Who knows?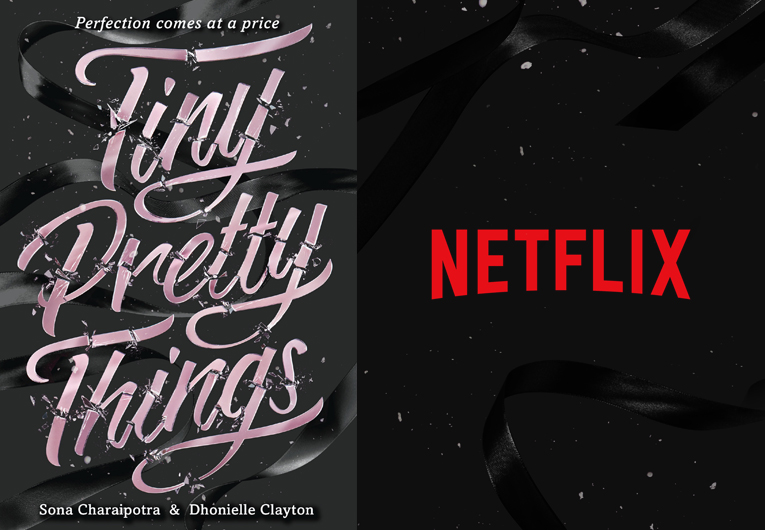 All in all this was such a fun read. It was written captivating, it gave be all the ballet vibes and it shows perfectly how far young girls and boys will go to get what they want. The books shows that striving to be perfect can be almost fatal – quite literally. It has it's clichés, but it still found it to be surprisingly good and I cannot wait to watch the Netflix show!
If you liked my review of Tiny Pretty Things, you can find more book reviews here!
Read the book in English:
Read the book in English, Netflix style:
Lees het boek in het Nederlands: