In March I read Love & Olives as a buddy read with Lynn from @Lynnstabooks and Monisha from @BooksandDreamsNL. We both read other books by Welch (Love & Gelato and Love & Luck) and were super excited to finally get our hands on a copy of this super cute book. Here are my thought on the book!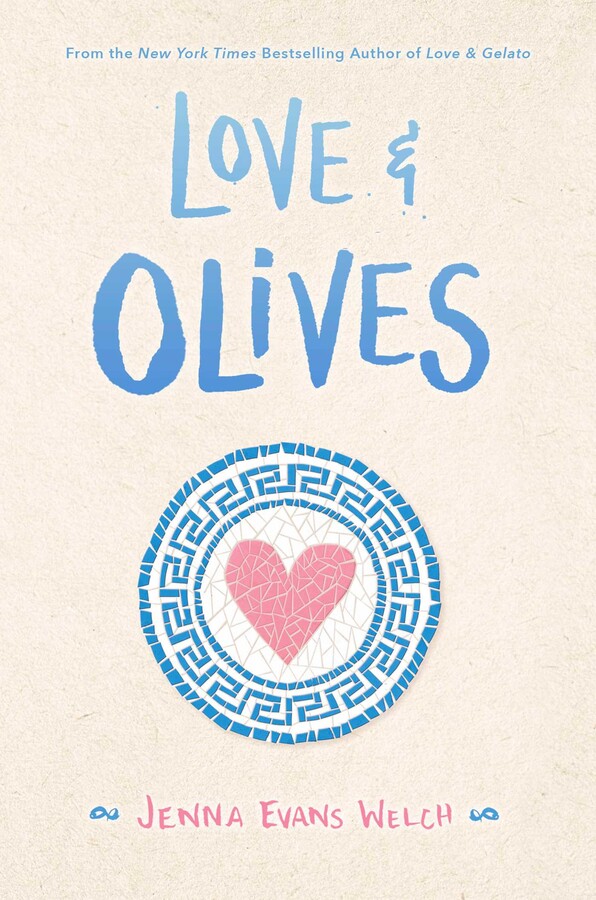 Author: Jenna Evans Welch
Genre: Contemporary
Publisher: Simon & Schuster (Export version)
Release Date: November 10th, 2020 (although it was only available in March here)
Pages: 506
Spoilers: Nope, no spoilers!
Rating:
(4 / 5)
'Liv Varanakis doesn't have a lot of fond memories of her father, which makes sense; he fled to Greece when she was only eight. What Liv does remember, though, is their shared love for Greek myths and the lost city of Atlantis. So when Liv suddenly receives a postcard from her father explaining that National Geographic is funding a documentary about his theories on Atlantis and will she fly out to Greece and help? Liv agrees (mostly due to her mom's insistence).
But when she arrives to gorgeous Santorini, things are a little awkward. There are so many questions, so many emotions that flood to the surface after seeing her father for the first time in years. And yet Liv doesn't want their past to get in the way of a possible reconciliation.
And that means diving into all that Santorini has to offer – the beautiful sunsets, the turquoise water, the hidden caves, and the delicious cuisine. But not everything on the Greek island is as perfect as it seems. Because as Liv slowly begins to discover, her father may not have invited her to Greece for Atlantis, but for something much more important.' [Goodreads]
I'm off to Santorini – bye
It might not totally surprise you, but after reading Love & Olives, all I wanted to do was hop on a plane and fly to Santorini. I've been to Greece a couple of times, but never visited the island of Santorini. Mostly because it's probably one of the most expensive islands of Greece. But hey – it's worth it, from what I'm reading in Love & Olives. The book really gives off a Greece vibes (I can vouch for that). And thanks to the main character Liv, you get to experience Santorini through her. However, she's there for a working project, so she doesn't get to experience the island as much as I would if I'd ever go there. Welch could've maybe given her some more free time to discover Santorini properly.
We all need a Theo
Oh Theo, I love you. From the first time Live meets Theo, you know he's the guy you can count on for almost anything. First of all, he's super excited – like a labrador puppy. And I can only imagine how handsome he would be in real life. He's a bit nosy and a very convincing know-it-all, but over all he's a great character that lights up the room (or the page). And lastly, he's a true optimist and feels like Liv's father is a hero, although lots of signs show that he's not just passioned about his job, he's closer to unhealthily obsessed. But we'll get into that in a moment.
Mental health
Mental health plays a key role in this story. However, this only becomes clear at the end of the story. I cannot give away too much, but you'll find that not everything is as it may seem. I like it how Welch incorporated this subject into the book and gave it an extra layer. Above all, it explains why some of the people in Liv's life did the things they did.
In conclusion
Love & Olives is as romantic as it sounds. It has all the right ingredients: a cute Greece guy, beautiful sceneries and the hunt for a mythological city (okay so that last one is not your standard ingredient but I love it). Although I would have loved to see even more of Santorini, this place will give you all the Greece vacation vibes you need!
Excited about the book? You can order it at your local book store or right here: