Litte Fires Everywhere has been picked as a favorite by numerous people and organizations: Reese's Bookclub, Goodreads, People, The Washington Post, The New York Times and so many more. Hulu and Reese Witherspoon have even adapted it into a tv series. After so many loving reviews, I decided the time was right for me to pick up the book. And so I did. And this is what I thought of it.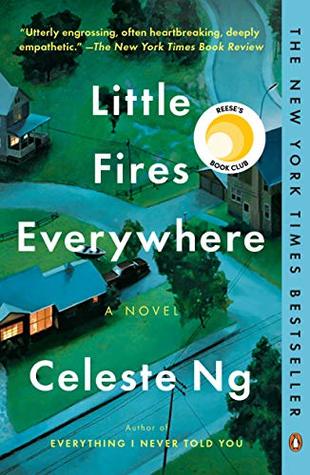 Author: Celeste Ng
Genre: Fiction
Publisher: Penguin Books
Release Date: September 12th 2017
Pages: 368 (I read the May 7th 2019 edition)
Spoilers: Nope, no spoilers!
Rating: 
(4 / 5
---
In Shaker Heights, a placid, progressive suburb of Cleveland, everything is planned—from the layout of the winding roads, to the colors of the houses, to the successful lives its residents will go on to lead. And no one embodies this spirit more than Elena Richardson, whose guiding principle is playing by the rules.
Enter Mia Warren—an enigmatic artist and single mother—who arrives in this idyllic bubble with her teenaged daughter Pearl, and rents a house from the Richardsons. Soon Mia and Pearl become more than tenants: all four Richardson children are drawn to the mother-daughter pair. But Mia carries with her a mysterious past and a disregard for the status quo that threatens to upend this carefully ordered community.
When old family friends of the Richardsons attempt to adopt a Chinese-American baby, a custody battle erupts that dramatically divides the town—and puts Mia and Elena on opposing sides. Suspicious of Mia and her motives, Elena is determined to uncover the secrets in Mia's past. But her obsession will come at unexpected and devastating costs. [Goodreads]
---
Prologue
The story start with a prologue, where the Richardsons house is on fire – literally. Everybody suspects Izzy, as she is described as reckless, but nobody knows for sure because she's nowhere to be found. The youngest daughter of the family is the only one not accounted for. As a reader, you immediately notice that nobody is surprised about this. You wonder: what happened here? And that's exactly what the whole book is about.
Character driven
Little Fires Everywhere is very much driven by the characters. They're all very realistic: they have flaws, make decisions based on emotions instead and do things that anyone of us might have done. Especially the two mothers, Mia Warren en Elene Richardson, play a big role. They both want the best for they're children, yet in such a different way. You soon come to realize that their pasts have shaped them into what they are now.
The perfect setting
What I could really appreciate about this story, is the setting. Shaker Heights, 'a placid, progressive suburb of Cleveland, everything is planned', seems like the perfect place to raise a family. The laws are perfectly mown, the houses match and everybody plays by the rules. But you soon find out, that there are little fires everywhere. Beneath that perfect layer that the town pretends to be, you soon find out that all families have secrets they're trying to hide. Mrs. Richardson, journalist, is trying to figure them all out, while trying to protect her own secrets for dear life.
You soon find out, that underneath the perfect layer of Shaker Heights, little fires are everywhere.
Important topics
The story discusses some interesting point: abortion, sexuality, racism, upraising and motherhood. It is not discussed 'in your face', but you notice in trickling through the story.
Slow pacing
The only thing that made me give the book four stars instead of 4.5 or 5 stars, is the fact that the story is dragging at some points. It took me over two weeks to read it. And that's fine, it's just a slow pacing story. But I would've liked it to be a bit faster every now and then. The 'what happened?' question kept me going, but sometimes it just felt like I was reading a very long report from the Sunday paper.
Little Fires Everywhere is a well written, character driven story that will keep you guessing until the end of the story. It incorporates important topics without throwing it into the readers face. It is a bit slow due to the very strong 'reporting' vibes and going over small details. I loved this book very much and would definitely recommend it!
Benieuwd naar het boek? Je bestelt hem hier snel:
Want to read more reviews? You can find an overview of my reviews here.