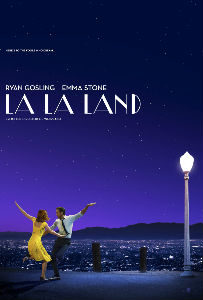 Movie: La La Land
Release Date: December 22nd, 2016
Language: English
Director: Damien Chazelle
Stars: Emma Stone, Ryan Gosling, John Legend, Rosemarie DeWitt
IMDb rating: 8,8/10
My rating: 

(5 / 5)
The story of Mia, an aspiring actress, and Sebastian, a dedicated jazz musician, struggling to make ends meet while pursuing their dreams in a city known for destroying hopes and breaking hearts. With modern day Los Angeles as the backdrop, this musical about everyday life explores what is more important: a once-in-a-lifetime love or the spotlight. [IMDb]

The movie I couldn't wait to watch: La La Land. Ever since I heard about a new musical movie starring Emma Stone and Ryan Goslin, I was excited beyond words. I'm a sucker for musicals and these two actors have always been favorites of mine. Still, nothing could've prepared me for the actual movie since it was not at all what I expected. It was way better. It's gorgeous, it's magical and it's already scoring big this award season!
I go to the movies a lot. Not very often does a movie pick me up and take me away to the another world, making me lose complete track of time. There are a lot of aspects of the movie worth talking about, but I just can't write a review without mentioning this movie's insanely good cinematography. Fun fact: one of the music scenes took 13 weeks of rehearsals because it's filmed in one single shot! The amazing shots in this movie are what makes it magical. Some scenes were breathtaking, with an absolute favorite being the epilogue in the movie. I won't spoil anything, but the last five minutes had me crying my eyes out!
The story follows Seb and Mia: a struggling jazz musician and a struggling actress. Both are trying to make their dreams come true in Hollywood. We see Mia go from audition to audition, but never really scoring a big role. Seb's dream is opening a jazz cafe. They meet each other, and we watch them go through trials and tribulations in their respective careers. The chemistry between Emma Stone and Ryan Gosling is off the charts! This isn't a surprise, seeing how they've played love interests on screen before. (Crazy Stupid Love, anyone?)
The music is also worth mentioning, this is a musical movie so there are lots of songs. It isn't a typical musical movie, though. The story isn't told through songs. The songs are merely there to compliment the story and not the other way around. A big highlight is the song A Lovely Night in which the characters of Stone and Gosling meet each other and get to know each other. Another big one is John Legend's song in the movie, it's fun, it's big and it's been playing on repeat on my phone ever since I saw the movie.
There's isn't really a whole lot I can say without spoiling the entire movie. It's amazing, it's a tribute to old Hollywood movies and definitely, definitely worth your time. It may be a bit slow for some, but I'd still give it a shot if you're not into these kinds of movies. The movie's tagline say this movie is for the ones who dream. And it is, it really is.
In a nutshell:
Liked it: Yes!
Loved it: Yes yes yes yes!
Re-watch: If you loved it as much as I did, yes!
Cinema worthy: 1000% yes!