Thank you Talisar Books for providing me with a copy of Kommunalka Child. This has in no way influenced my opinion.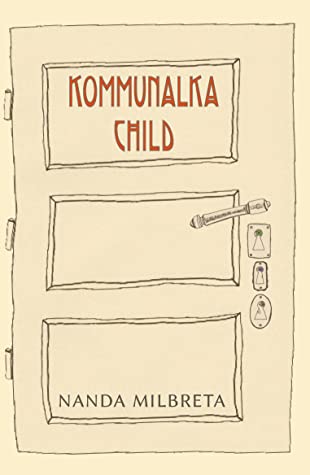 Author: Nanda Milbreta
Genre: Contemporary
Publisher: Talisar Books
Release Date: November 27th 2020
Pages: 185
Spoilers: Nope, no spoilers!
Rating:

(3.5 / 5)
Nine months after she was conceived as a way to contribute to population growth, a kommunalka child was harvested from a cabbage patch, like every other Soviet child. She grew up in a bilingual family in a communal home, searching for her place in the world as the Soviet way of life slowly collapsed in the face of the Western liberties and luxuries.
This groundbreaking collection of funny, touching, embarrassing and absurd illustrated stories provide a unique look at life in the last decade of the Soviet Union through the eyes of a Latvian child. 
Original
This story was one of those very original and personal stories, that you will not ever forget after reading it. I've never read a story from the story of a child that grew up in Latvia in he last decade of the Soviet Union. It was so interesting to read about everything that happened, especially since it shows how a child interpreted these happenings. It told a bigger story, but it was also a very personal account of the life of child growing up in the Soviet Union in Latvia.
Fragmented
The book consist of multiple shorts stories. To me, as a reader, it was sometimes a bit random. The story was fast and went from one thing to another. Sometimes this annoyed me a bit, as the bigger storylines seemed to be overlooked, but in another way, it worked well, as it show how fragmented our childhood memories actually are.
Illustrations
One big plus was the fact that everything had cute little illustrations. It gave the story an extra dimension that I could really appreciate. It also helped with creating the images in my head.
In conclusion I think Kommunalka Child is a really fast paced book that made me laugh out loud but also wonder how it was possible that things happened the way they happened – but that's the Soviet Union. I do feel like the book is a bit fragmented, missing the bigger picture of the story. However, the perspective of a child, combined with the illustrations, made this to be a one of a kind story that I will never forget.
Interested in more book reviews? Click here!
If my review has gotten you interested in the book, you can order it at your local bookstore or here online: