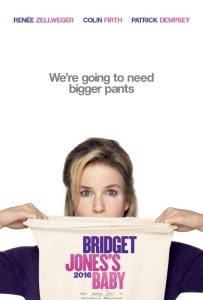 Movie: Bridget Jones's Baby
Release Date: September 16, 2016
Language: English
Director: Sharon Maguire
Stars: Renée Zellweger, Colin Firth, Patrick Dempsey
Bridget Jones is back! With a succesful career and no wedding ring in sight, she finds herself pregnant after a few wild nights and struggles with who the father could be. I got so nostalgic in this movie and almost out of breath because the jokes are so funny. 
"Bridget's focus on single life and her career is interrupted when she finds herself pregnant, but with one hitch … she can only be fifty percent sure of the identity of her baby's father." (IMDb)
This plot summary is kind of short, but is truthful to the general tone of the film.
My mother always told me about how funny Bridget was and when I got to an appropriate age we watched the first two movies together. We laughed and laughed and since then I get this mother bond feel when I see Bridget.
So when I heard there was going to be a new one I got really excited! I'm a huge fan of Pride and Prejudice and because you see a lot of aspects of that story in the Bridget world I assumed it would continue on that. That wasn't the case, except for Colin Firth's appearance as Mr. Darcy, but I wasn't that sad about it because it's such a funny movie. (I was sad because my mother went with her friends instead of me, you'll get the bill of my shrink later, thank you mom)
The movie starts with a very known picture, Bridget singing to herself on her birthday alone. But quickly turns in this 'I am over forty and very cool' story with plot twists, which was kind of suprising and actually really fun.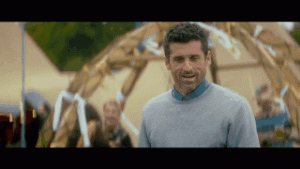 The movie isn't slow, it goes on with a brisk pace and in no time she is very pregnant. This rival thing continues with Darcy and noob Jack (yes dr. McDreamy) is a nice touch which keeps the tension going. Because the whole movie is about one thing, who is the father? Eventually that tension drops a little but it is the centre of the picture.
The only thing  that bugged me when I finished watching was that the months of her pregnancy went really fast, they could've added some more scenes there to expand the whole "Bridget is clumsy and pregnant haha" thing. But other than that, nothing but love for this movie. Characters grow, humour is constant, vibe is fresh and gives Bridget more respect when you think of the franchise.
I hope you enjoyed this review and let me know what you think of the movie!
In a nutshell:
Liked it: Certainly
Loved it: yesss
Re-watch: will do soon! (With my mom hopefully)
Cinema worthy: Absolutely