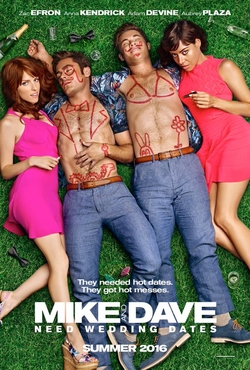 Movie: Mike and Dave Need Wedding Dates
   Release Date: July 28th, 2016
   Language: English
   Director: Jake Szymanski
   Stars: Zac Efron, Adam Devine, Anna Kendrick and Aubrey Plaza
   Based On: Mike and Dave Need Wedding Dates – Mike and Dave Stangle
   Rating: 

(3.5 / 5)
Brothers Mike (Devine) and Dave (Efron) are a little desperate; one of their family members is getting married and they need a date ASAP. Their solution? An ad online, asking for girls to be their dates. They got more than they asked for, raking up a total of a few thousand replies. Among the replies are best friends Alice (Kendrick) and Tatiana (Plaza)  who end up being chosen as the dates. The four of them travel to Hawaii for the wedding, which makes for a pretty hilarious movie.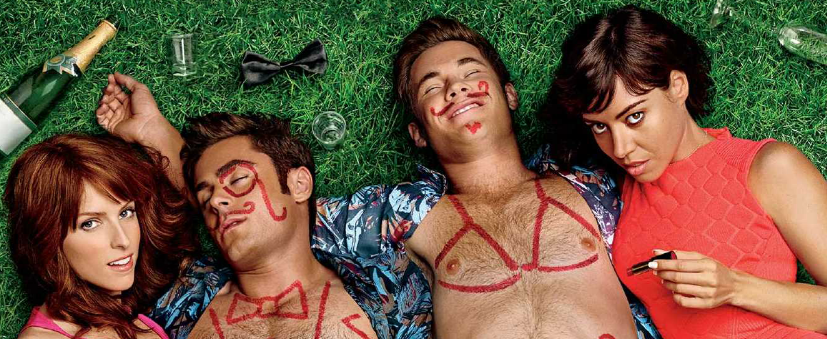 Two hard-partying brothers place an online ad to find the perfect dates for their sister's Hawaiian wedding. Hoping for a wild getaway, the boys instead find themselves out-hustled by an uncontrollable duo. (IMDB)
I have to admit I was a bit skeptical when I went to see this movie. It looked anything but original and even though I have a weak spot in my heart for both Anna Kendrick and Aubrey Plaza, the movie just didn't look good. Boy, I was wrong! I found myself laughing every couple of minutes. Mike and Dave are obviously hoping for two girls they can party with at the wedding, but instead they are stuck with the weirdest and most of control best friend duo ever. They have no clue what hit them, and they'll have to adjust fast to keep up.The characters and the plot are absolutely ridiculous and over the top, but it works so so well.
The maincast is amazing, Zac Efron and Adam Devine are great on screen together. They goof and banter with each other and you can almost feel their fun. I'm a massive fan of both Kendrick and Plaza so I was sold the minute they came on screen. They're best friends in real life too, and you can just tell they are having the best of times!
It's the perfect summer movie. It doesn't take itself too seriously, and neither should you. It's fun, fast and has a lot of inappropriate jokes. Sure, the plot isn't the most original, and the character show no development at all. There are enough side characters to enjoy, which is neccessary at times because while the main four are entertaining, they can't carry the entire movie on their own.
Despites these little complaints, this movie is totally and 100% worth your time. It's charming, fun and it includes a hilarious little tribute to Jurassic Park. If you want to watch a fun, summer-y movie with lots of jokes, look no further.
In a nutshell:
Liked it: Yes
Loved it: Yes
Re-watch: Yes
Cinema worthy: No