With a new Harry Potter movie in just two weeks, it's fair to say we're all pretty excited. Even though we won't be seeing Harry, Ron and Hermoine, the new characters are just as exciting. To freshen up your memories and to make you even more excited about the upcoming movie, I made a list of my favorite Harry Potter moments. What's your fav?
1. Hermione punching Draco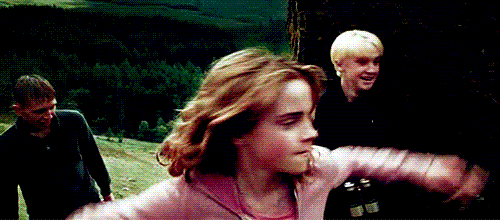 There's not a single scene that satisfies me more than this one. Hermione finally shakes of that 'nerdy' girl look and just punching the bastard (sorry) in the face. He totally deserved it. This moment really shows how brave (and impulsive) Hermione is. GO GIRL!
2. Teaspoon situation



We all know boys are pretty bad with emotions. Ronald Weasley once again proves this when he talkes about relationships and people bing hurt. Hermione knows how to shut him up. What starts as trying to insult Ron, ends up being one of the funniest Harry Potter moments in history.
3. Badass mrs. Weasley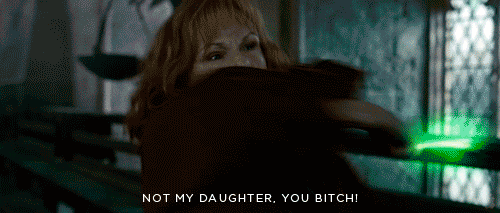 Nobody touches her children – mrs. Weasley is pretty convinced of that. But when this monster, Bellatrix, goes after her daughter, a flip switches. The sweater knitting mother changes into this beast and has the single most badass scene in the last movie of the series. We root for you mrs. Weasley!
4. But I AM the Chosen One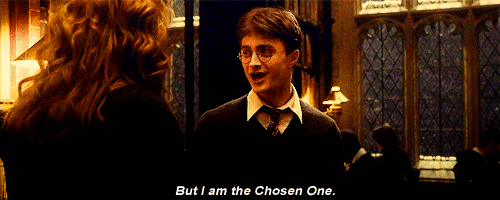 YES – Harry we know. You didn't have to repeat that. To anyone. Especially not to Hermione while trying to flirt with the girl from across the library. Focus on the books. Talking about books, reading isn't the only function books have as Hermione quickly reminds Harry.
5. Harry on Felix Felicis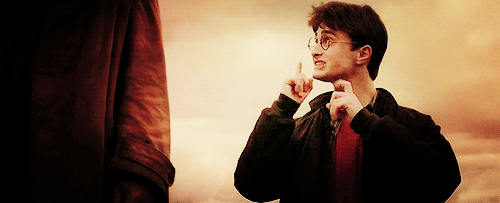 Harry Potter is very funny in the books. In the movies, not so much. But when he's on Felix Felicis, the potion that supposedly makes you succeed in whatever you're doing, Harry is just flat out hilarious. When he goes to Hagrid and finds out his mega spider friend has died, this is his reaction. GENIUS.
6. Hermione in THE dress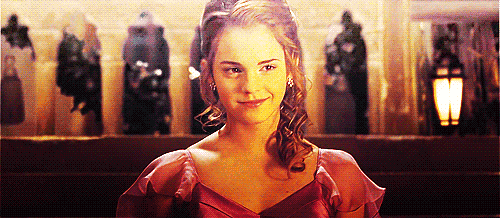 This scene isn't especially funny when Hermione is walking down the stairs, but it made the list because I love how happy she looks in the dress. And all of the sudden, the boys see her for what she is: a girl. They finally give her some credit. And let's be honest about this. She looks GORGEOUS.
7. Firework twins


When you say funny, I say Weasley twins. These guys made every movie just a little bit lighter and more hilarious than you could every imagine. They made us cry as well, but let's just focus on the good parts. And one of the best twins-scenes is the one in which they made firework to scare the big villain: Dolores Umbridge. Thumbs up guys!
8. Ron Weasley eating. Practically. Every. Scene.


No matter what, Ron will eat. He will eat anything at anytime, anywhere. A Harry Potter movie just isn't a Harry Potter movie without Ron eating something that doesn't quite fit in his mouth or just doesn't get there in the first place since he eats like a beast. No need to say anything else. (We still love you tho).
9. Shouldn't Have Said That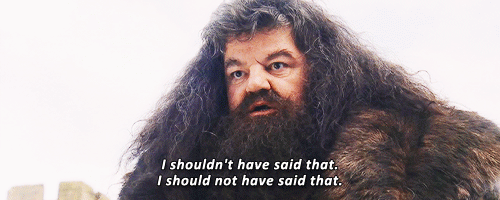 If my calculations are correctly, Hagrid shouldn't have said anything throughout all 8 movies. OK. Just kidding. But the guy just can't hold his tongue. We love Hagrid, but he can't keep secrets from Ron, Hermione and Harry. And now his signature talk is all about not talking. At all.
10. Classic LeviOsa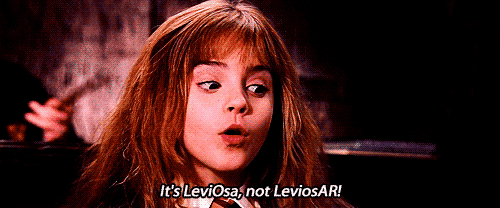 Is this the end of the list already? Yes – it is. Hermione has this spot. For sure. It's a classic and we all know it. We even have it on our sweaters. Hermione is the typical know-it-all and this scene is just Hermione at her nerdy best. And she's right. It's LeviOsa, not LeviosAR! Dude.
I really hoped you enjoyed this list. I sure did enjoy making the list and going back to our favorite movies/books in history. Can we ever get enough of the Harry Potter universe? I don't think so. These characters are in our hearts forever. But now they have  to make room for some knew ones as well. I believe my heart is big enough for all of them. But let's get down to what really matters: what's your favorite Harry Potter moment? Let us know down below!